CONTROL VALVE-C Series (BALANCED)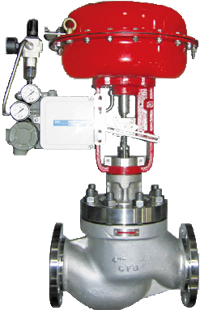 1" to 20"(Optional/up to 36")

ANSI Class 150 to 2500,3000,4500

Flanged,Socket welded,Butt welded,Ring joint type,etc

Unbakanced,Balanced and Auxiliary pilot

CC:Conventional Cage,MS:Multi-hole 1stage,

MD:Multi-hole 2 stages,MT:Multi-hole 3 stages

X[iks]-Trim:Disk Stack

Bolted design,Pressure seal design

Standard,Extension,Cryogenic,Bellows seal

ANSI B 16.34/FCI 20-1

Class IV(Standard),V(Optional),VI(Optional ,Soft seat)

MSS-SP-61(Optional)

Equal %,Liner,Modified %

Custom Engineerd
CONVENTIONAL CAGE

1

MULTI-HOLE 2STAGES

1

MULTI-HOLE 3STAGES


1

AUXILIARY PILOT TRIM / APT WITH 1STAGE


1
● Conventional cage / balanced single seat port throttle
General purpose cage guided valve trim which can be used in most clean compressible and non-compressible fluid se1vices for both modulating and on/off control. The balanced plug design reduces actuator force requirements thus permitting use of smaller, less expensive actuators while maintaining tight shut-off capability
● Multi-hole 1 stage, 2stages Trim
This trim offers some of the advantages of the multiple stages MH Trim. Single stage trim reduces the damaging effects of flashing and cavitation when used with compressible and non-compressible fluids. Turn down ratio, seat leakage, dBA levels, flashing and cavitation reduction are based upon the individual design criteria of each trim. The single stage trim can be used in place of other port throttling trim styles, size a available is from 2inch through 18" valves with balanced and unbalanced plugs./ Option 20" -36"
● Multi-hole 3stage Trim
Mac multi-hole multi-stage trim assembly in unbalanced or balanced single seat designs provides multiple pressure breakdowns for noise abatement in critical pressure drop steam or gas applications. This trim is also equally effective in high pressure drop liquid applications for preventing cavitation and trim erosion damage .
● Auxiliary pilot plug trim [APT]
The APT trin1 is designed primarily for high pressure differential applications where tight shut-off is essential. Such applications include steam and water pressure reduction, steam throttling to atmosphere or to condenser, isolation, super-critical boiler start-up and variety of other uses in steam and water control system. The design of the APT trim provides tight shut-off, excellent control and rangeab山ty,but requires low actuator thrust which provides rapid response. It is also lower in cost. The trim is basically a port t虹ottlingsingle seat design with main and pilot plugs working in APT. The large main plug is the control device. Inside the main plug is the pilot plug connected rigidly to the valve stem, when closing the main plug seats first as a large balanced plug and this is rapidly followed by the closing of the pilot plug. At this point, the plug from an unbalanced assembly and up stream pressure helps create high seating force resulting in reliable shut-off as high as class V. To open the actuator need only lift the small pilot plug to cause the main plug to once again become balanced.
General Selection Information
● Trim Cv Calculation
A full description of the procedures use for calculating the Cv on various is detailed in the DITO sizing & selection program.
● Body Selection
Generally, the valve body must be capable of supporting the selected trim design without producing excessive velocity. The following tables can be used as a guide for determining the maximum recommended body velocities for liquid and gas/vapor applications.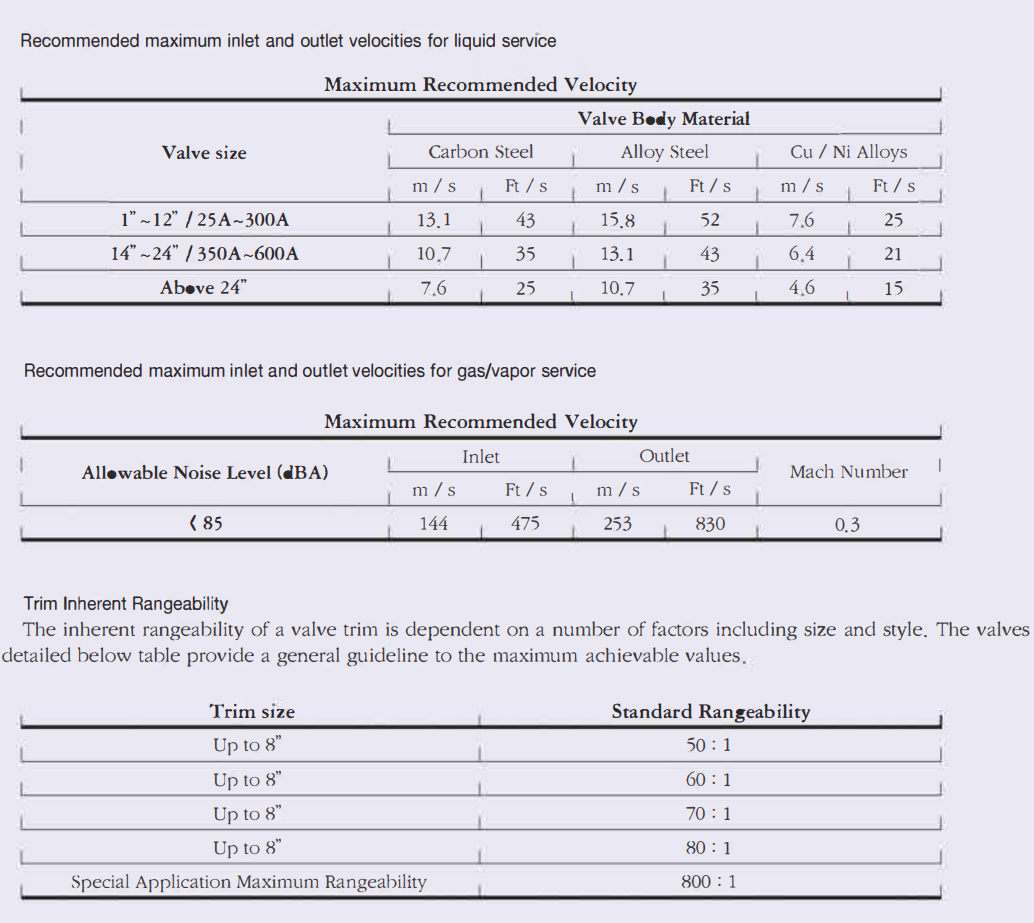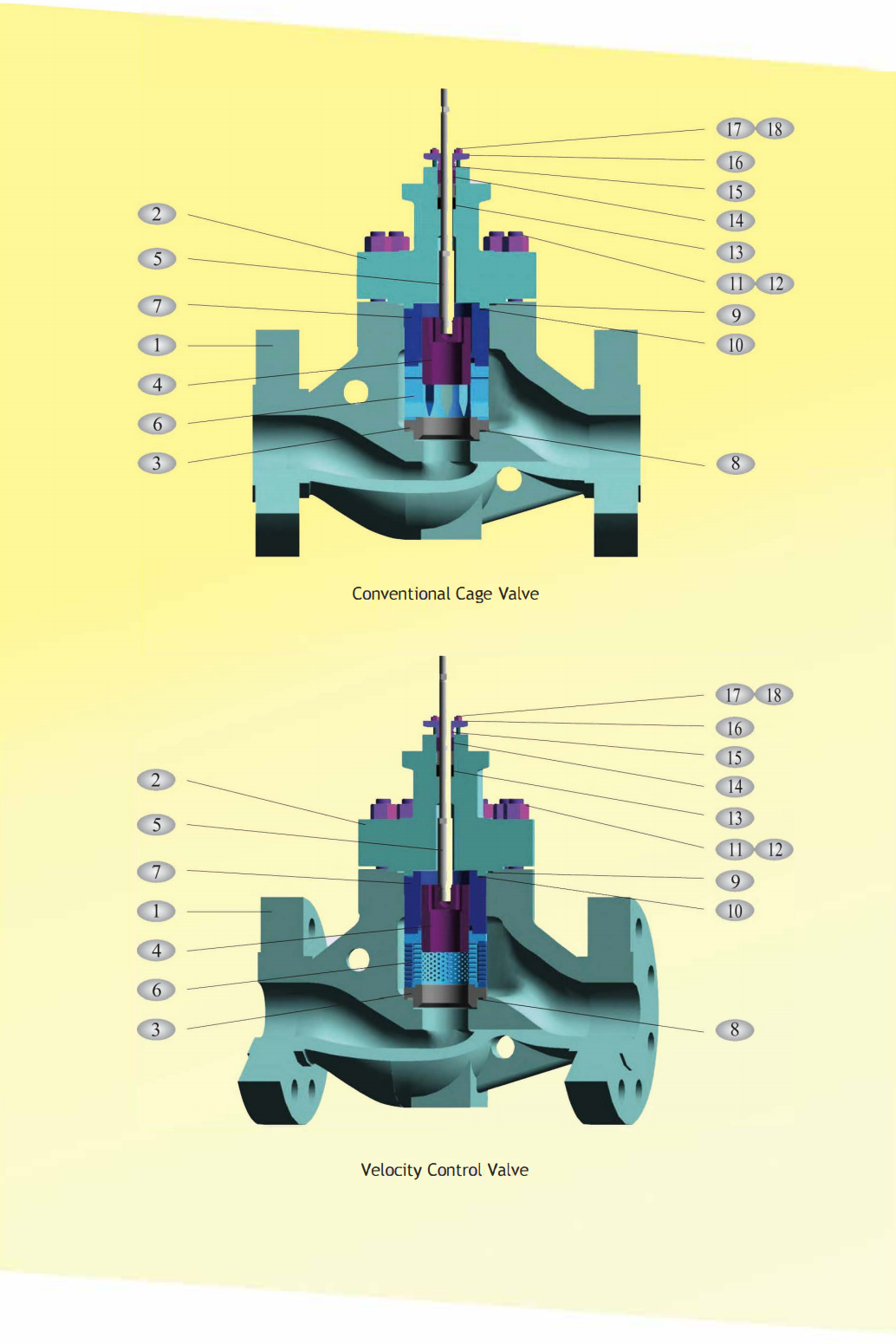 → CLICK TO DOWNLOAD Mcsys CONTROL VALVE-C.PDF