EPT-Series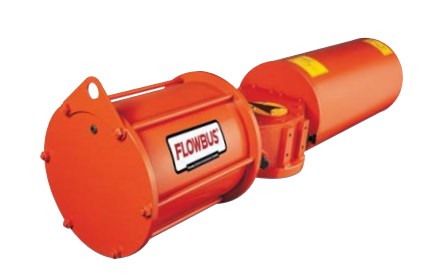 EPT-Series heavy-duty scotch yoke actuators are designed for rotary on-off or modulating duty,and can be provided with either symmertical or canted torque output to suit the duty requirements of the valve.They have been certified to meet SIL 3,4 ratings in accordance with IEC 61508/61511,which will support plant operations under safety instumentation systems.
● Raliable Heavy Duty Design
● Torque range 398N.m[3,682inch-lb]to 800,000N.m(7,088,000 inch-lb)
● Symmetric and Canted Scotch Yoke Mechanism
● External Tie Rods for protection the cylinder tube
● Wear and Corrosion Resistance
● Advanced Sealing Compounds
● Suitable for severe aplications
Heavy Duty Pneumatic ActuatorsScotch Yoke Design
FLOWBUSEPT Series heavy duty scotchyoke actuators are designed for rotary on-off ormodulating service, and can be supplied witheither symmetrical or canted torque output. TheEPT series are designed to operate ball,butterfly and plug valves requiring a rotary,quarter-turn movement which will support plantoperation under safety instrumentationsystems. Available in both double and springreturn configurations, the modular design canbe quickly and easily converted in the field.Flowbus is able to make the EPT actuators ahigh quality, reliable actuator, utilizing tried andtested methods of operation combined with thelatest innovations in technology.

>>Safety Design Unit
To avoid accidental release of spring force, the EPT actuators have been designed with aninherently safe spring return unit. The spring units are supplied as fully welded modules. Thespring and spring retainer are self-centered and bearing guided within the spring module,ensuring accurate alignment and extending spring life. The spring is compressed towards thedrive module during operation, provides no impact on the spring end cover, reducing stressesand increasing safety. The spring tension can be adjusted to give optimum torque outputs.
>>Efficiency and Reliable Solution
The EPT Series actuators are constructed to offer efficient and reliable performance withreduced repairs and increased actuator life. The permanently lubricated, sliding bearingscombine with a low friction, corrosion resistant hard chrome internal coating to ensure perfectoperation of the internal components while the heavy duty construction and external coatingprotect the actuator from corrosive environments.
>>Torque Outputs
The EPT double acting actuator torque output ranging from 917 to 800,000 N.m (8110 to7,080,600 ins.lbs.), while the spring return actuator produces spring end torques ranging from447 to 546679 N.m (3950 to 4,838,500 ins.lbs.). The actuators are rated for continuousoperation at pneumatic supply pressures from 3 to 12 bar (40 to 170 psig).
>>Temperature Ranges
Standard EPT actuators are designed for operating temperatures of -20°C to +80°C (-4°F to+176°F). Options are available for low and high temperatures of -48°C (-54.4°F) and +177°C(+350°F) respectively. Special requirements can be supplied on request. For higher and lowertemperature applications, consult Flowbus.
>>Flowbus ; A Complete Solution
Flowbus can supply not only an actuator, but a complete tailored solution to meet yourapplication. From basic ancillaries such as solenoids, through ESD systems and smartpositioners, Flowbus is able to use their years of valve and actuator experience to enhanceperformance and provide the perfect solution to your application requirements.
Key Advantages : EPT Series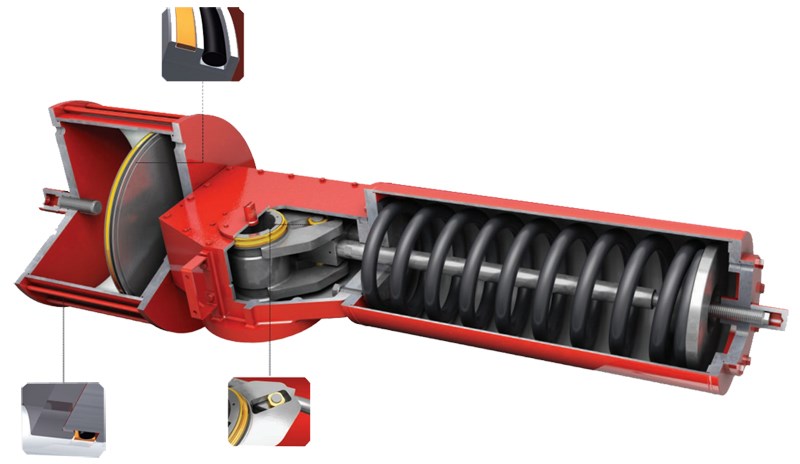 ⑴ Piston Guide Ring
The EPT Series has a guide ringfitted to the piston to preventlateral deflection, ensuresmooth, steady operation andextend piston operating life.
⑵ External Tie Rods
The external tie rods protect the cylinder tube from accidentaldamage during piping work and prevent deformation.
⑶ Advanced Sealing Compounds
The EPT Series utilizes both PTFE and rubber seals. The PTFE sealoffers a high level of sealingperformance and is selflubricating, ensuring smoothoperation of moving parts. Therubber seal offers long term,high performance sealing withno tendency to set or creep.
⑷ Simple Actuator Mounting
The EPT Series yoke is designed with two full length keyways.This not only simplifies assembly but also allows for ease ofmodification to the actuator orientation to accommodate lastminute pipe work changes, in addition to providing easiervisual confirmation of alignment, thus reducing maintenanceand assembly time. Specially designed dowel pins in the mainactuator drive module ensure simple and accurate alignmentof modules when assembling the actuator or performingmaintenance.
⑸ Replaceable Bearing
Low friction, permanently lubricated,high performance bearings protect allcomponents,extending actuator life byensuring smooth operation. Bearingreplacement is simple and instructionscan be found in the operating and maintenance manual.
⑹ NAMUR Standard
For ancillary equipment such as positioners and switchboxes,the latest VID/VDE 3845 mounting interface is provided toallow quick and simple mounting and it is designed to meetthe weather proof standard.
⑺ Wide Adjustable Stopper
The EPT Series actuators offer travel stops allowing +/-5° ofadjustment to give a travel range from 80° to 100°. Both thestoppers are externally accessible for easy travel adjustment.Optional extended travel stoppers provide a greater range ofadjustment.
⑻ Cylinder Tube Coating
The EPT actuators incorporate a hard chrome internal coatingto resist wear, corrosion and thermal and physical shock whileproviding a low friction lubricating interior finish. The coatingensures that the cylinder tube is fully protected regardless ofwhat corrosive elements are drawn in from the surroundingatmosphere. As an option, electroless nickel and Teflon platedcylinders are available in accordance with the industryapplication.
⑼ Spring Rod Nut
The spring rod nut locks the spring to preventaccidental release under repetitive springimpacts. In addition, spring tensioncan beadjusted. The spring module is designed witha tension lock ensuring that the spring force cannot be accidentallyreleased during disassembly from the drive module.
⑽ Wear Resistance
The EPT Series guide rod has an advanced surface treatment,which combined with self-lubricating bearings, provides superiorwear resistance and extends the life of all sliding components.
⑾ High Efficient Operation
The EPT Series piston rod is locked by a guide block,supported by a high strength alloy steel guide rod with a selflubricating bearing. This ensures efficient operation andimproves the transfer of energy from the actuator to the valve stem.
⑿ Integral Housing Vent
The main actuator housingincorporates an integralcheck valve in order torelease overpressure whilepreventing ingress offoreign objects or water.
⒀ High Visibility Position Indicator
A high visibility position indication beacon is available as anoptional feature on the EPT actuators. The indicator is impactresistant and weather proof to IP66/67 standard.
⒁ Ancillary Bracket
A multifunction bracket is available for ancillaries. Thebracket can be assembled in various configurations to provideoptimum mounting of ancillary equipment.
⒂ ISO or MSS Mounting Standard
The EPT actuators have an optional VDI/VDE 3845 mountinginterface enabling simple mounting of ancillary equipment.
Manual Overrides

1. Jackscrew Manual Override
A compact jackscrew override is available as an option and offers efficient and precise performance even when the air supply fails. The jackscrewallows the actuator to be manually operated with no loss of torque or decrease in operating speed. Even when operating at maximum speed, thejackscrew is designed to withstand the forces produced without damage to itself or the actuator.
2. Hydraulic Manual Override
Flowbus Hydraulic Manual Override is an independent manual override system for EP-Series pneumatic actuator. It is composed of a hydrauliccylinder, pump and oil tank. The hydraulic cylinder can be divided into various types according to the shape and action of the yoke. The speciallydesigned hydraulic override cylinder is installed inside the spring module. This standardized actuator overall length and isolates the hydraulic fluid toeliminate contamination and spillage.
HIPPS (High Integrity Pressure Protection Systems)
FLOWBUS ; A Complete Valve Actuation Technology
A high-integrity pressure protection system (HIPPS) is a type of safety instrumented system (SIS) designed to prevent over-pressurization of a plant,such as a chemical plant or oil refinery. Where HIPPS is applied as a pressure protection system, the system shall be documented to have the same orbetter safety reliability as a pressure relief device system. Alternatively IEC 61508, part5 can be used to develop the appropriate Safety Integrity Level(SIL) for each specific HIPPS application. The safety reliability of the HIPPS system shall be documented to meet the selected SIL level considering forinstance common mode failures, as the HIPPS system may consist of several identical HIPPS loops.

Fire Proofing Solutions
| | |
| --- | --- |
| Our extensive knowledge of the valve and actuator industry in oiland gas, refinery, petrochemical applications enables us toprovide various fire protection solutions to allow the criticalactuator and related control systems to continue operating for aperiod of time in fire temperatures of 1000 deg C in accordancewith UL1709. By installation various fire protection systems suchas a flexible & semi-rigid enclosure jacket, rigid enclosure,removable covers and intumescing coating or any otherrequirements, the critical valve actuation systems can beprotected efficiently from danger and damage from fire.FLOWBUS is able to offer the fire proofing systems in both newand existing actuators and its controls systems. | |
Versatile Modular Design
The EPT Series modular design consists of spring, power and drive modules. The modules have been designed for easy disassembly and this allowsthe actuator to be quickly and easily converted from double acting to single acting configuration, or for the addition of ancillaries such as a manualoverride unit. The modular design allows these modifications to be performed without removing the actuator from the valve.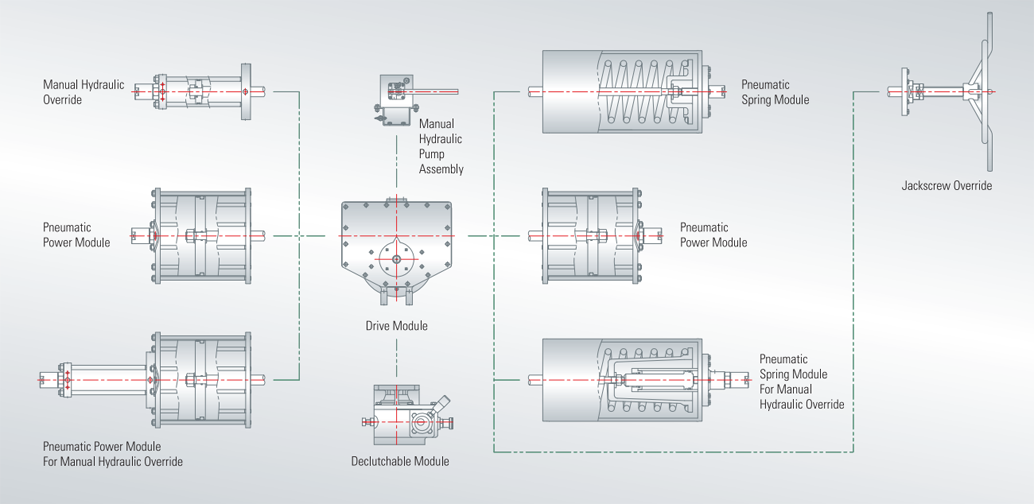 Torque Outputs
The EPT Series actuators provide either symmetric or canted torque data. In accordance with the industry demand,the torque outputs can be delivered asshown the graph.

→

CLICK TO DOWNLOAD EPT Series Catalogue.PDF