EPL-Series
Flowbus' EPL-Series linear actuators provide advanges of compact and high performance outputs in flow control systems. With a range of operating performance,Flowbus linear actuarors offer reliability and long life,and have high technical performances. Our proven design and engineering expertise has developed a product suitable for the sever industry.
● Ralaible and Compact Linear Actuators
● Thrust range 50 N(11 lbf) to 950,000 N(231,407 lbf)
● Suitable for harsh environments
● Double Acting and Spring Return
● Latest Design Technologies applied
Key Advantages : EPL Series
FLOWBUSEPL Series linear valveactuators are specifically designed for usein a comprehensive range of field-provenlinear valves such as gate valves, globevalves and other linear valves. The EPLlinear actuators are manufactured inaccordance with strict quality standards andensure reliability and safety in your plant.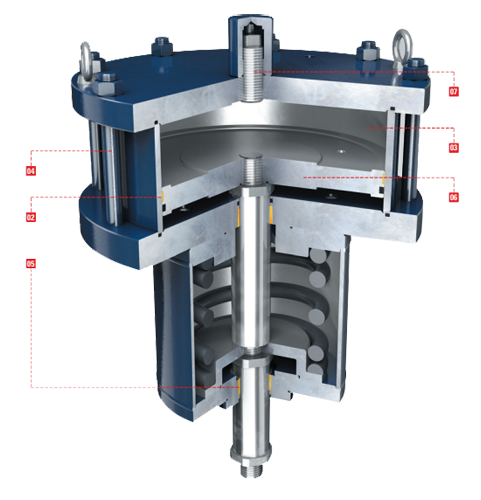 ⑴ Wide Range of Force Output
The EPL double-acting actuator force output ranges from 65kgf to61,219kgf, while the spring-return actuator produces spring end forcefrom 20kgf to 41,770kgf. The actuators are rated for continuousoperation at pneumatic supply pressures up to 12bar (175psi) basedon their M.O.P.
⑵ Safe Piston Guide Ring
EPL actuators have a guide ring fitted to the piston to prevent lateraldeflection, ensure smooth, steady operation and extend piston life.
⑶ High-Strength Cylinder Tube Coating
EPL actuators incorporate a hard chrome internal coating to resistwear, corrosion, and thermal and physical shock while providing alow-friction lubricating interior finish. The coating ensures that thecylinder tube is fully protected regardless of what corrosive elementsare drawn in from the surrounding atmosphere. To ensure long life,the coating is made to bonds to the cylinder surface, eliminating theproblems of cracking or flaking experienced with inferior solutions.Electroless nickel, Teflon-plated cylinders, and any other protectioncoating are offered as options and are available in accordance withthe industry application.
⑷ External Tie Rods
External tie rods protect the cylinder tube from accidental damageduring piping work and prevent deformation.
⑸ Dust Wiper (Scraper) Seal
The dust wiper seal is a special sealthat keeps dirt and contaminants out.In addition, the low-friction wiperreduces friction while increasingdust sealing for smoothness withincreased durability.
⑹ Reliable Piston Design
A piston rod supported by hard chrome provides minimal friction andextended service life. The precision-machined steel pistonincorporates an anti-friction wear ring and prevents the stick lipeffect after prolonged periods without operation.
⑺ Standard Stroke Adjust
The stroke adjust makes adjustments in one direction, which allowsthe full piston force to come into high-friction contact with theactuator body. Adjustable travel stops withstand the full output forceof the actuator. The stroke adjustment in the opposite direction isoptional.
⑻ ISO5211 Valve Interface
EPL actuators have valve mounting pads in accordance with theISO5211 mounting pattern to provide the greatest flexibility for valveadaptation.
⑼ Optional Cushion Absorber
For quick operation applications, the specialcushion absorber system reduces the impactdamage to the valve trim, piping stress and actuatoritself while allowing increased performance andreliability. Based on innovations in technology,Flowbus is able to offer a high-quality, reliableeconomical ESD systems and quick operationusing tried and tested methods of operation.
⑽ Visual indicator
The visual indicator is directly connected to thevalve and has specially designed positionindicators that locally signal the valve position.The display indicates the valve position throughthe full range of travel.
⑾ Various Manual Overrides
Optional manual overrides such as a gearbox, jackscrew andhydraulic override can be incorporated in accordance with thecustomer's requirements. FLOWBUS has a wide range of overrideoptions to meet many customer specifications.
⑿ Customized Valve Joint and Coupling
FLOWBUS's specialized engineeringand custom manufacturing teamprovides premier quality valve jointand brackets to virtually mount anylinear operation valve to our EPLseries actuators while consideringapplication conditions such asvibration, heat, cavitation, and so on.
→
TO DOWNLOAD EPL %20Series%20Catalogue.PDF