EPA -Series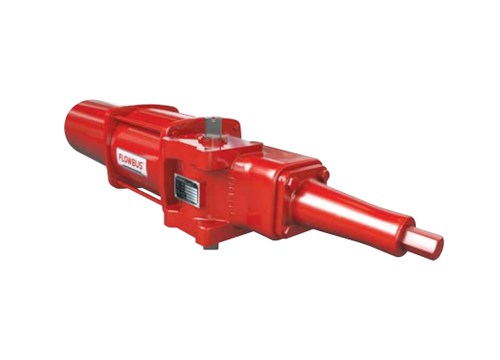 Provide rugged and compact solutions for quarter-turn valve actuation.The scotch yoke design offers a high torque output while reducing maintenance requirements.They have been designed with an inherently safe spring return unit that prevents the accidental release of the spring force,and ensures that installation or maintenance can be performed in complete safety.
● Inherenly Safe Heavy Duty Design
● Torque range 36N.m(310 inch-lb) to 6,957 N.m(61,570 inch-lb)
● Symmetric Scotch Yoke Mechanism
● Dual Valve Mounting Pads for easy change the spring fail mode
● Wear and Corrosion Resistance
● Advanced Sealing Compounds
● Suitable for harsh industries
Compact Pneumatic Actuators for Quarter Turn Valves
The EPA pneumatic actuators provide a ruggedand compact solution for quarter turn valveactuation. The scotch yoke design offers hightorque output while reducing maintenancerequirements. Available in both double andspring return configurations, the modulardesign can be quickly and easily converted inthe field. Flowbus is able to make the EPAactuators a high quality, reliable actuator,utilizing tried and tested methods of operationcombined with the latest innovations intechnology.

>>Inherently Safe Design
The EPA actuators have been designed with an inherently safe spring return unit. The EPAspring rod is connected to both the spring and cover and to the retainers, so that the spring isfully retained during assembly or disassembly. This ensures the safety of personnel duringinstallation and maintenance by preventing accidental release of the spring force.
>>Efficient and Reliable
The EPA actuators are constructed to offer efficient and reliable performance with reducedrepairs and increased actuator life. The permanently lubricated, sliding bearings combine witha low friction, corrosion resistant hard chrome internal coating to ensure perfect operation ofthe internal components while the heavy duty construction and external coating protect theactuator from corrosive environments. For flexible installation, dual valve mounting pads offer asimple method for changing the actuator fail position and the bidirectional travel stoppers alloweasy adjustment of valve seating and fully open positions.
>>Torque Outputs
The EPA double acting actuator torque output ranging from 243 to 6,957 N.m (2,150 to61,570 ins.Ibs.), while the spring return actuator produces spring end torques ranging from 36 to1,905 N.m (310to 16,859 ins.Ibs.). The actuators are rated for continuous operation atpneumatic supply pressures from 3 to 10 bar (40 to 150 psig).
>>Temperature Ranges
Standard EPA actuators are designed for operating temperatures of -20°C to +80°C (-4°F to+176°F). Options are available for low and high temperatures of -48°C (-54.4°F) and +177°C(+350°F) respectively. Special requirements can be supplied on request. For higher and lowertemperature applications, consult Flowbus.
>>Flowbus ; A Complete Solution
Flowbus can supply not only an actuator, but a complete tailored solution to meet yourapplication. From basic ancillaries such as solenoids, through ESD systems and smartpositioners, Flowbus is able to use their years of valve and actuator experience to enhanceperformance and provide the perfect solution to your application requirements
Key Advantages : EPA Series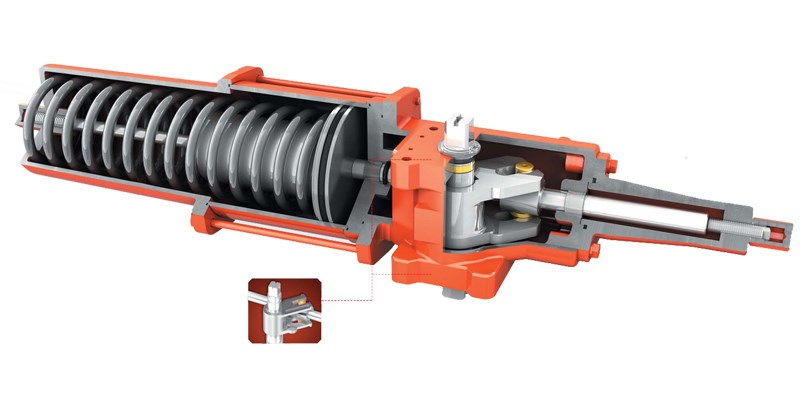 ⑴ Modular Design
The EPA actuators modular design allows the actuator to beeasily converted from double acting to single actingconfiguration, and provides for the simple addition ofancillaries such as manual override units
⑵ Cylinder Tube Coating
The EPA actuators incorporate a hard chrome internal coatingto resist wear, corrosion, and thermal and physical shockwhile providing a low friction lubricating interior finish. Thecoating ensures that the cylinder tube is fully protectedregardless of what corrosive elements are drawn in from thesurrounding atmosphere. To ensure long life, the coating ismade to bonds to the cylinder surface, eliminating theproblems of cracking or flaking experienced with inferiorsolutions. As an option, electroless nickel and Teflon-platedcylinders are available in accordance with the industryapplication
⑶ Replaceable Sliding Bearings
The EPA actuators have permanently lubricated, long lasting,sliding bearings. The soft nitrided finish provides superiorcorrosion and wear resistance for longer life
⑷ External Tie Rods
The EPA actuators external tie rods protect the cylinder tubefrom accidental damage during installation or piping work.Also by removing the tie rod nuts a spring return unit can besimply added or removed to change the actuator configuration
⑸ Dual Valve Mounting Pads
Valve mounting interfaces on either side of the actuatorprovide the ability to changethe spring fail mode, fromclockwise to anti-clockwise bysimply inverting the actuatorand allows installation in anyrequired orientation
⑹ Wide Adjustable Stopper
The EPA actuators offer travel stops allowing +/-5°C ofadjustment to give a travel range from 80°C to 100°C . Boththe stoppers are externally accessible, for easy traveladjustment. Optional extended travel stoppers provide agreater range of adjustment.
⑺ Secondary Ancillary Interface
The secondary mounting interface allows ancillaries, such asfilter regulators, to be mounted directly to the actuator. Thisremoves the needs of a bracket making for a compact, spacesaving assembly and keeps all the ancillary equipmentmounted on the actuator.
⑻ The Enhanced Maintenance & Repair Service Life
Flowbus actuators are designed to prevent failure and repaircosts are minimal in comparison to competitive actuators. TheEPA actuators are constructed to the highest qualitystandards, using engineering experience and the latestmanufacturing techniques, and offers reliable performance.
⑼ NAMUR Standard Interface
For ancillary equipment such as positioners and switchboxes,the latest VID/VDE 3845 mounting interface is provided toallow quick and simple mounting with a direct pinion drive
⑽ ISO5211 Standard Valve Pad
The EPA actuators are designed to the latest ISO5211 valveinterface standards, for optimum strength, and standardizeddimensions
⑾ Safety and Confidence
The EPA actuators are designed to provide safe, simple andreliable performance and maintenance. The units aremanufactured by Flowbus with the highest QA procedures, soconfidence is built in
⑿ Integral Bearing
Low friction, permanently lubricated, high performancebearings ensure accurate alignment and balanced support ofthe piston rod for extended actuator life
⒀ High Visibility Position Indicator
A high visibility position indication beacon is available as anoptional feature on the EPA actuators. The indicator is impactresistant and weather-proof as per the IP66/67 standard.
⒁ High Torque and Compact Design
The EPA actuators are smaller in comparison with other actuatoroffering similar torque outputs. This reduces the overall valvepackage envelop providing a more compact design.
Manual Overrides

1. Jackscrew
A compact jackscrew override is available as an option, and offers efficient and precise performance with thefollowing advantages.
• Full rated torque available even when the air supply fails.
• The jackscrew allows the actuator to be manually operated with no loss of torque or decrease in operating speed.
• Even when operating at maximum speed, the jackscrew is designed to withstand the forces produced withoutdamage to itself or the actuator.
2. FB-Series : Declutchable Gear Box
The EPA actuators are available with a declutchable gear box option. This allows quick and simple operation of thehighest torque valves, even when the air or power supply fails
Approval and Industry Standard






• Actuators manufactured in conformity with CEcertification to PED 97/23/EC

• Actuators certified in accordance with ATEX 94/9/EC

• Actuators certified to IP66/IP67

• Actuators designed and manufactured under a third party accredited

• ISO 9001:2000quality assurance program.

• Suitable for Safety Integrity Level applications in accordance with IEC 61508 : 2000

• GOST-RRussian certificate of conformity



Versatile Modular Design

The EPA actuators are designed to be flexible to meet the ever changing requirements of today's applications. The modular design is easily convertedfrom spring return to double acting, without the need for special tools or equipment. The spring module can be stocked to allow quick change over,and has been designed so that the spring is not under tension until fitted to the actuator to prevent loss of power due to spring set. Manual overridessuch as jackscrews and declutchable gear boxes can be also retrofitted.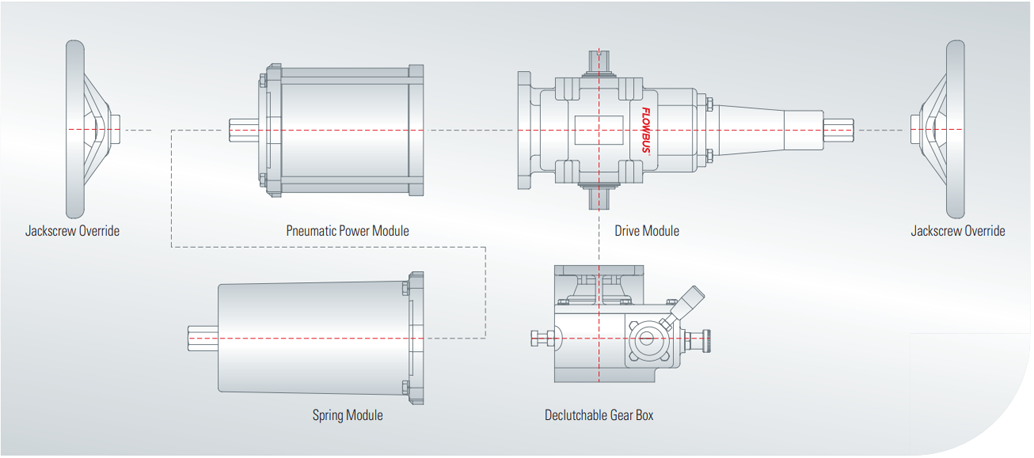 Torque Output Curves
The torque shown in the graph ismeasured values. The required size ofthe actuator can be constituted bycomparing the values of the actuatorwith the required torque of the valve.

Complete Tailored Solutions
Flowbus can supply not only an actuator but also a complete solution to meet the customer'sapplications. We offer comprehensive solutions with the latest innovations in technology forproject specific customer requirements. By combining our high quality product range, expertise,and process experience, we are able to solve complicated process problems with reliable, ontime packages. Our aim is to exceed the quality and operational expectations of customers,providing them with added value and service.
→

TO DOWNLOAD EPA %20Series%20Catalogue.PDF